We need your help to rebuild!
The Caribbeans's legendary hedonistic vacation destination has lost most of its luster - thanks to a direct hit by category 5 hurricane Irma on September 6th. Many islands in our region have been catastrophically effected; that's why this request for your support shall only appeal to persons who feel a special bond to St. Maarten - St. Martin.
(This text is being written on a battery powered laptop and in hopes of finding somewhere an Internet connection to upload new content to ST-MAARTEN.COM. All utility infrastructure on the island has been destroyed and water and power won't be available for quiet a while. No emergency help supplies have reached the island yet. The consensus is that about 95% of the island has been damaged.)
We will rebuild! And we will be able to welcome visitors again, offering a spectacular vacation experience... just not right now.
Please donate to the ST MAARTEN - ST MARTIN DISASTER RELIEF FUND! Any amount - no matter how small - is welcome and deeply appreciated. But if you are willing to spare a little bit more than pennies, we like to find a way to respond with a 'Thank You'.
Over 30.00 - You will receive an official Certificate of Support as PDF file via email. Store this certificate on your smart phone or print it out. Present it at your next visit (after the island as re-opened). Expect preferred treatment where ever you present it to grateful vendors.
Over $60.00 - You will gain a membership with the status of a ST. MAARTEN INSIDER. For your next visit, you will receive a 20% discount on rental cars and activities featured on ST-MAARTEN.COM! As soon as the situation normalizes, you will receive a formal membership card with your name on it by mail. (This program had been in the making prior to the storm and its focus has now shifted to disaster relief.) This card will identify you as a loyal and valuable supporter of SXM, as a member of our island community. You will receive privileges not only through discounts, but also through VIP treatments with our partners.
Over $100.00 - Now you gained the status of a ST. MAARTEN AMBASSADOR. Your exclusive membership card will give you 20%
discounts on published rental car rates and on activities for as often as you visit the island!
For a quick donation solution and because there are only short bursts of Internet connectivity available, we installed our booking engine to faciliate payments.
Searching Availability...
The Situation on Island
Update September 20th:
Hurricane Maria passed us as expected to the South and we feel now for the residents of Puerto Rico, who are experiencing landfall of this storm right now. For us, Maria was merley an inconvenience, with much rain and tropical storm force winds... which is nothing compared to what Irma dished out. There is another curfew still going on and clean up work being interrupted now for two days.
Update September 19th:
Because of Hurricane Maria passing to the South of us here in St. Maarten - St. Martin, our island is again under curfew and most relief work had to stop. We don't expect extreme winds, but lots and lots of rain... not good for people living in houses without roofs.
By today, a more complete assessment of the distribution of damage around the island can be made.
It is clear that the French side has been hit much harder by Hurricane Irma. At the same time, the relief efforts on French St. Martin are organized by the government of a major developed nation (France), and the difference in performance of relief efforts to the Dutch side is shocking. Sint Maarten is essentially independend as part of the Kingdom of the Netherlands. Political posturing and widespread corruption in the past within the local government has spoiled most of the good will the Dutch might have had.
During the first days of the aftermath, the relief efforts of ST-MAARTEN.COM were focused on shutteling as much water as possible over to the hardest hit neighborhoods on the French side. These efforts were temporarily hampered by the closing of the border by the Dutch side Prime Minister, but still, a good number of people could be helped.
The Dutch side will be able to restore utilities faster than the Northern part. First neighborhoods show signs of life with some electricity reaching homes. Some other areas have their water connected again.
A major concern is the communications infrastructure, with Internet and phone services being spotty and unreliable.
Even though there is now food on the island, we are following up on desparate inquiries from neighborhoods that have run out and have not been reached by relief workers. This is were our private efforts can make a difference.

Island Residents

The vast majority of properties is either destroyed or badly damaged. The internatonal media reported that about 95% of the island's buildings are effected and this seems to be an accurate assessment.
There is no running water and no electricity. A huge part of the population sleeps in roofless houses, exposed to the elements.

Business

At this time, it hasn't been possible to travel the complete island in order to find surviving businesses which might be able to re-open soon. Most restaurants in Simpson Bay, Maho, Cupecoy, Marigot and Grand Case are badly damaged or completely flattened.
Even surviving hotels and resorts won't be in a position to receive guests; almost all rooms got flooded and water damage is extensive.
Both Sonesta Resorts have been hit hard and it is not clear if their structures can be saved.
The activity providers fared even worse: Only leading operator Aqua Mania might have saved two of their boats: first the catamaran Lambada and second the ferry Edge, which provides service to the islands of St. Barths and Saba. Both boats are afloat and apparently intact in a very protecte pocket of the Lagoon.
As of this writing on the 10th of September 2017, we haven't seen any support from national or international desaster relief organizations. Only now does the evacuation of stranded vacationers start, mostly with military airplanes.
Update September 19th:
We have now surveyed the complete island and try to determine, which business will be able to operate by December 15th, the official start of the Caribbean tourism season.
Philipsburg:
Town has been hit hard and especially the Boardwalk is a mess. That said, damage on Front Street appears to be managable. The retailers are meeting and will set a date for stores to all open at the same date. With the help of heavy equipment, it should be able to clean up the Boardwalk. Philipsburg should be able to welcome cruise ship passengers soon.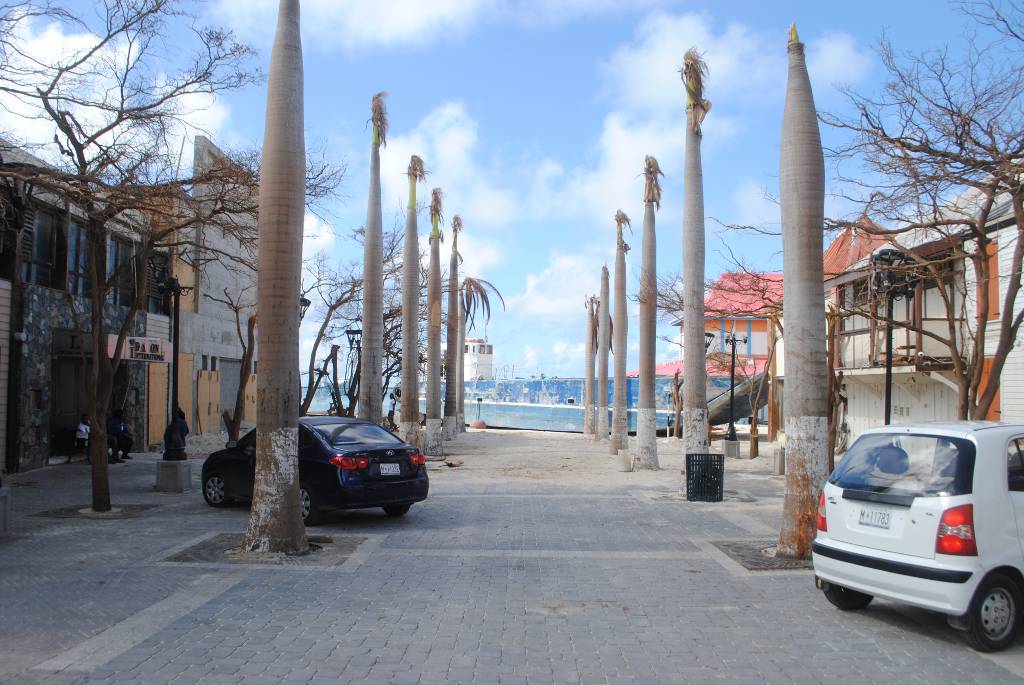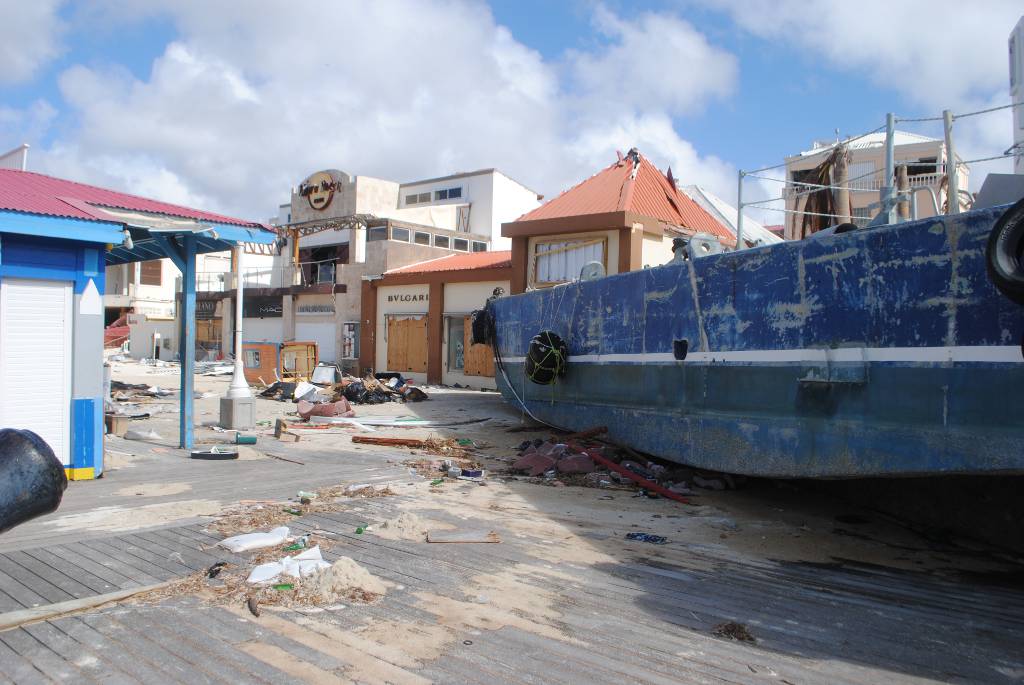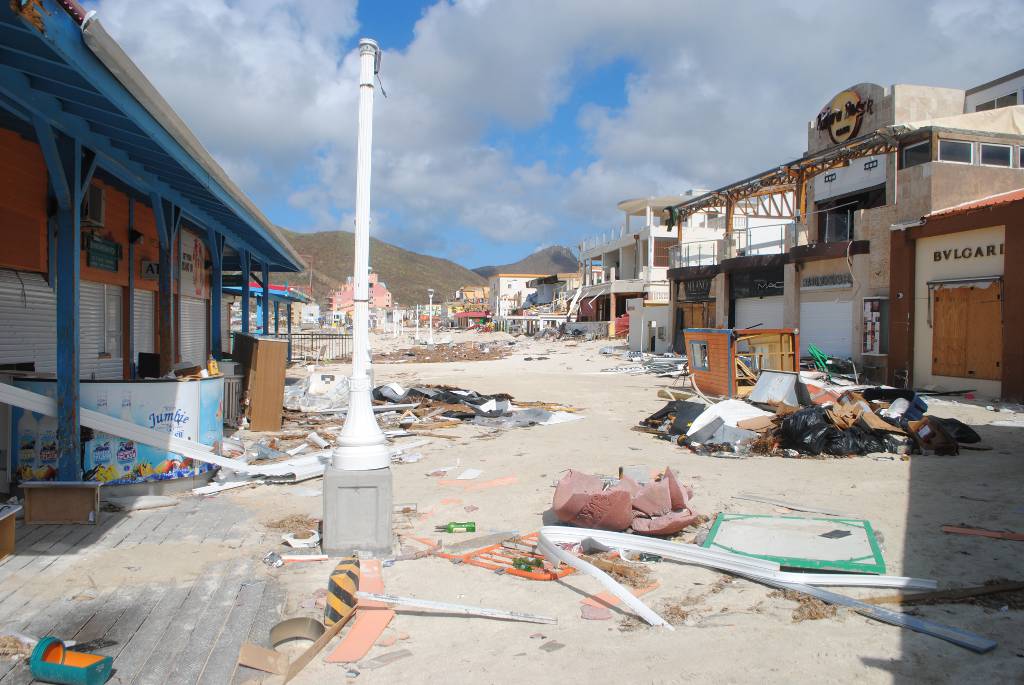 Orient Beach
This is the island's signature beach, but the storm removed all restaurants and beach bars. Naturist resort Club Orient has been hit hard and will not be able to reopen soon. But... many of the property's cottages are standing and seem to be structurally intact.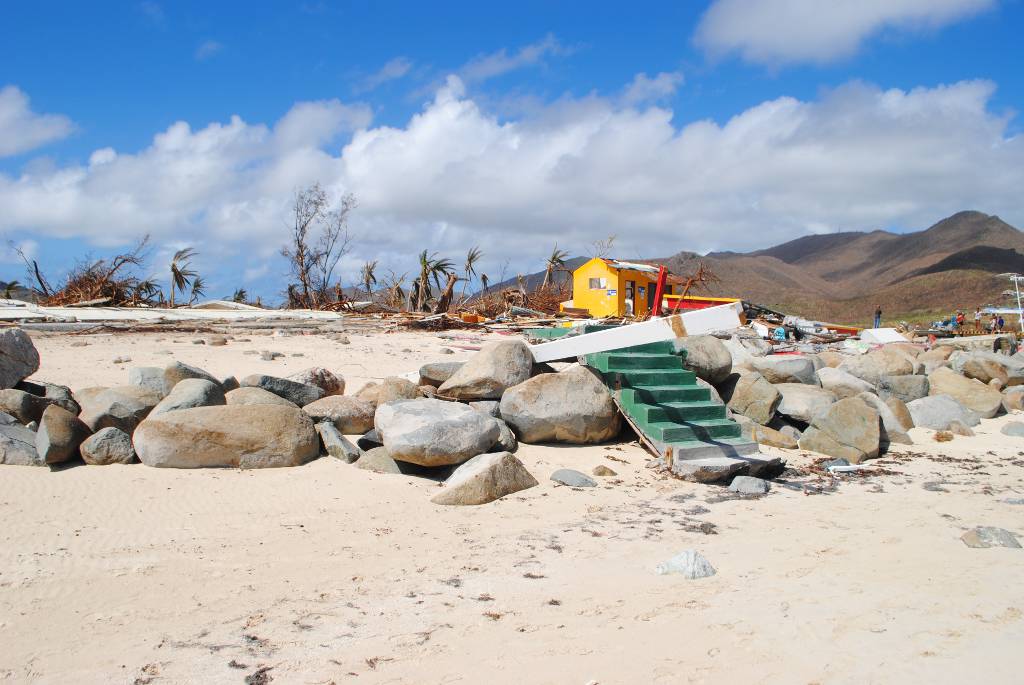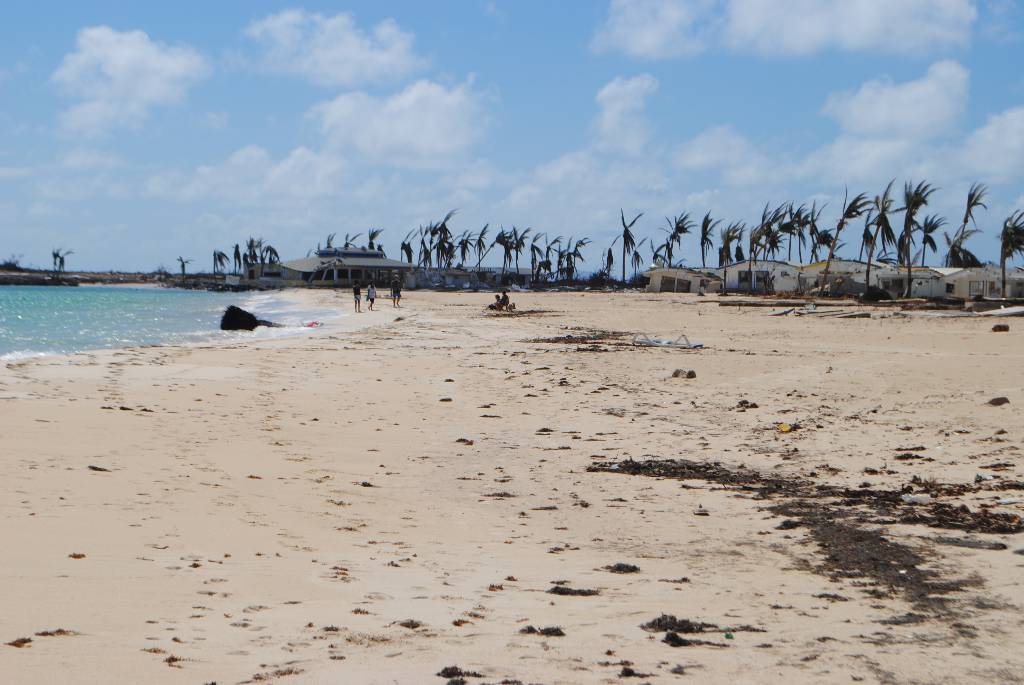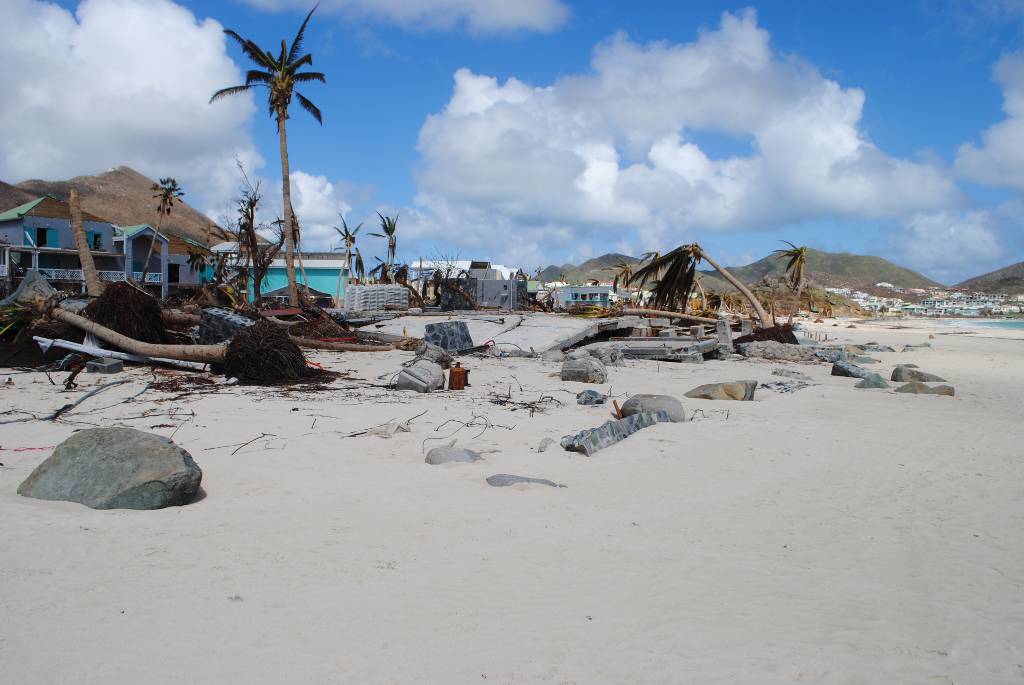 Update Sept. 11th:
Airplanes continue evacuating visitors. US citizen are being airlifted with military planes. A large French military airbus accepted a few French citizens to be taken to Paris. Otherwise the plane was two thirds empty as they were not willing to take citizen of other EU countries. Venezuela and Brasil also sent military planes. A few commercial aircraft arrived: Copa Airlines is accepting persons carrying any South American passport. One flight left to Panama, another to Bogota. KLM took Dutch citizen to Curacao. For Tuesday, Delta is expected.

Today, Monday, water and food were distributed on the French side. Water is being distributed on the Dutch side. Otherwise, the island is completely dark at night, with the exception of a few lucky souls in the possession of a generator AND fuel. On the Dutch side is a strict curfew during the night hours to contain looting.
Supermarkets are not officialy open yet, but a few Chinese store owners are selling items through the back door to people who have some cash left.
Compared to other islands in our region, the desaster relief efforts started with a delay of several days. Rumour has it that Dutch Sint Maarten did not accept an offer by the Netherlands prior to the storm for desaster relief.
Update Friday, September 15th
The Dutch side politial leader William Marlin ordered the borders to the French side of the island blocked. The reasons for dividing our tiny country, for separating families and disrupting relief efforts are not clear - even the military guarding the border openly disagrees.
While the French side accepts anybody coming over to their side, a return to the Dutch side has been denied to many.
Update Saturday, September 16th:
Politics are become now the main problem. The Dutch side prime minister seems to operate on an agenda which no one else can understand.
The remaining local radion station Laser 101 has done a fantastic job to stay on the air and act as an information hub. It appears that they are pressured to not broadcast information and oppinions critical of the local Dutch side goverment.
Update Monday, September 18th:
Finally... Internet again. I don't know for how long. The border crisis is over and everybody can movve freely betweeen the Dutch ad the French side. The explanation for the border stand off, which seriously hampered relief efforts is a 'misunderstanding'.
The island is presently under a Tropical Storm Watch. We will feel the outside bands of Hurricane Maria by tomorrow morning. Because a curfew has been issued for tomorrow, relief work will be stopped again.
By now, there is a more complete assessment available of the damage to the different regions of the island. Photos and text will be uploaded ASAP.

How the SINT MAARTEN - SAINT MARTIN RELIEF FUND will help:
⦁ During these scary initial days after the catastrophe, we will provide immediate humanitarian relief, with a preference for protecting children from further hard ship.
⦁ We will use the following days to assess where the local governments are not able to provide adequate emergency services.