Getting married on a Caribbean island is an accessible dream for most couples. In this article, we present the countless possibilities for a wedding ceremony worthy of celebrities and billionaires. But you might be surprised how many of the elements of an "Ultra Upscale Wedding' could be integrated into an average wedding budget. St. Maarten - St. Martin might be your best choice of location to create a truly memorable experience, not only for the lucky couple, but also for their guests and family.
---
---
PRIVATE YACHTS
Experience the ultimate wedding or honeymoon aboard a private yacht. With the availability of sailing and power yachts from 60ft to over 400 feet, there will be the perfect vessel for your every desire, taste and budget.
Aboard a crewed charter yacht, you and your guests will receive a floating 5 star service that is second to none. You can choose to use your private yacht in one of the following ways:
Love Boat: After your nuptials are exchanged, sail off into the sunset as Mr. and Mrs. on a private week long honeymoon. You will enjoy ultimate privacy, serine seclusion and romantic moments that will last a lifetime. Spend your days lounging on sun drench decks sipping tropical drinks and your nights dining alone in breathtaking harbors.
Take Them with you: Why not spend your wedding week in the company of your closest friends and family? Guests will enjoy their own private cabins and the same 5 Star service aboard. Think of it as your own private cruise ship which is free to take you wherever you would like.
Regardless of which option you choose, crewed yacht charters afford you many advantages that on-island accommodations wont: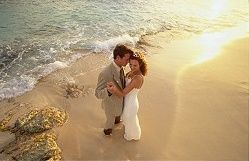 * Experience other islands and enjoy the flexibility to plan your own itinerary. Imagine having breakfast in St. Martin, lunch on a deserted island and sunset drinks in St. Barths.
* Explore exotic destinations, secluded harbors and coves where landlubbers simply can not go.
* Take pleasure in having a personal chef who will prepare custom meals for you and full time staff that will help to arrange anything you would like.
* Have access to snorkeling, scuba diving, kayaking, jet skiing, fishing and much more.
WEDDINGS AND HONEYMOONS ON ST. MARTIN AND SURROUNDING ISLANDS
Enjoy a you wedding or honeymoon on St. Maarten/St. Maarten or one of its surrounding islands in a private villa. With a private villa, you'll enjoy more space, privacy and comfort than a hotel room or suite. Villas are also ideal for tropical weddings, honeymoons, renewal of vows and group celebrations.
St. Martin / St. Martin - Just 37 square miles of tropical paradise, St. Martin is half French and half Dutch and offers a potpourri of charm and culture. Whether it's a fabulous beachfront villa on a white sand beach or a luxurious hillside villa with magnificent sunset views, you're sure to find a villa that suits your desires. Blue View Escapes St. Martin villa rentals have numerous amenities and feature al fresco verandas, lagoon style swimming pools, cozy gazebos and breathtaking views of the ocean and surrounding islands.
Anguilla: The British territory of Anguilla is a tranquil 34 sq. mile island and top Caribbean destination for the elite and those seeking total relaxation. Anguilla's 30 white sand beaches offer peaceful solitude while its 18-hole Greg Norman designed course provides a unique opportunity to experience golf in a tropical setting.

St. Barths: St. Barths is an exclusive 8 sq. mile French island best known for its European flair, gourmet restaurants, designer boutiques, quaint architecture and influential jet set visitors. Blue VIew Escapes can help you find a luxury St Barts villa which features quaint hillside bungalows or sprawling beachfront estates, all unique with details that will satisfy your every tropical desire.