Electronic music aficionados are always on the lookout for the next new Festival offering fresh experiences in an exciting original setting.
SXM Festival brings this dream to life with a brand new Destination Festival set on the beautiful Caribbean island of Sint Maarten / Saint Martin.
Imagine 5 days and 5 nights of non-stop events taking place throughout the picture perfect island. SXM Festival assembles A-list International Electronic Music entertainment in paradise at some of the most idyllic venues in the world. Experience music at beaches, jungles, villas and luxury yachts as never before.
This is the true magic of SXM Festival!
THE WORLD'S BEST UNDERGROUND DJ'S
A magical island paradise. The best DJs in the world. Ricardo Villalobos, Black Coffee, Jamie Jones, Nina Kraviz, Richie Hawtin, Âme, Bedouin, Blond:ish and The Martinez Brothers are just some of the incredible DJs playing SXM Festival. This is SXM 2017.
Thanks to Tyler Fairbank - Light Owl Productions for this stunning video and Chaim for this special edit of Blue Shadows!
VENUES AND SCHEDULE
Yes! Here are all the venues and opening schedules for SXM Festival 2017, running through March 15th to March 19th. With the action mainly spanning the west of the island, this map will help you follow the heat, the light and the end of the night!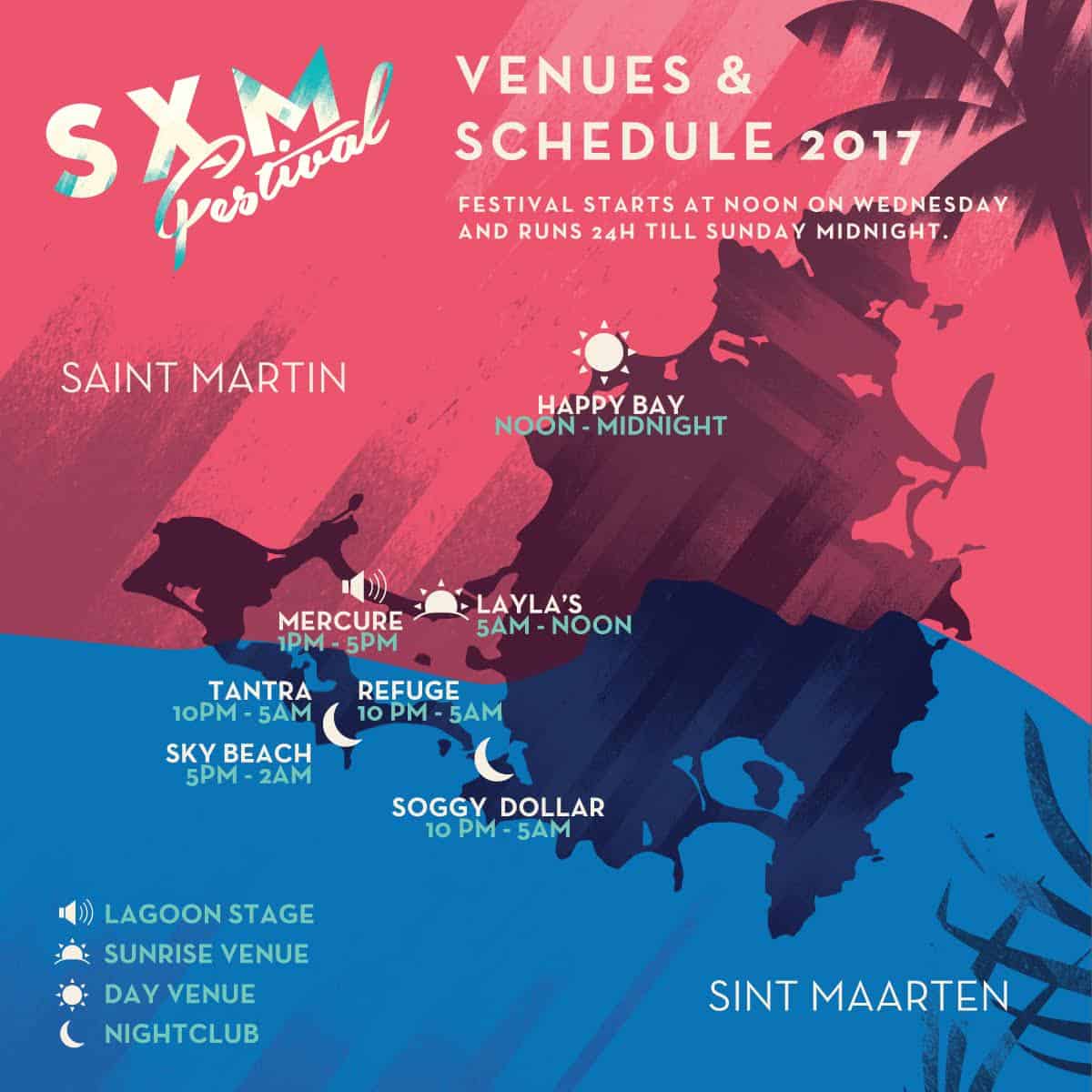 VIP PACKAGE - INCLUDING EXCLUSIVE VIP PARTY ACCESS
The SXM Festival VIP package offers dedicated entrances, special VIP access, a SXM Festival goodie bag stuffed with all kinds of coolness, a VIP service area with extra amenities and – the pièces de résistance – entry to the exclusive VIP Villa Party on one of Saint Martin's sickest properties. It needs to be seen to be experienced to be believed!
SHUTTLES
By far the safest, easiest and cheapest way to hop from party to party at SXM Festival is the shuttle bus and boat service. Shuttles will run regularly for the duration of all day and night parties with many drop off points in and around the action. Check out this map for the route. If you are looking for accommodation, make sure it is near the white dots!
New for 2017 is our special boat service that will run south from the Soggy Dollar to the Mercure – via Dinghy Bar – and back again. Then from Dreams Beach Bar to to Happy Bay (our main day party venue) and back again.
Buy your Transportation Pass here!
Starts at only 59 Euros + fees.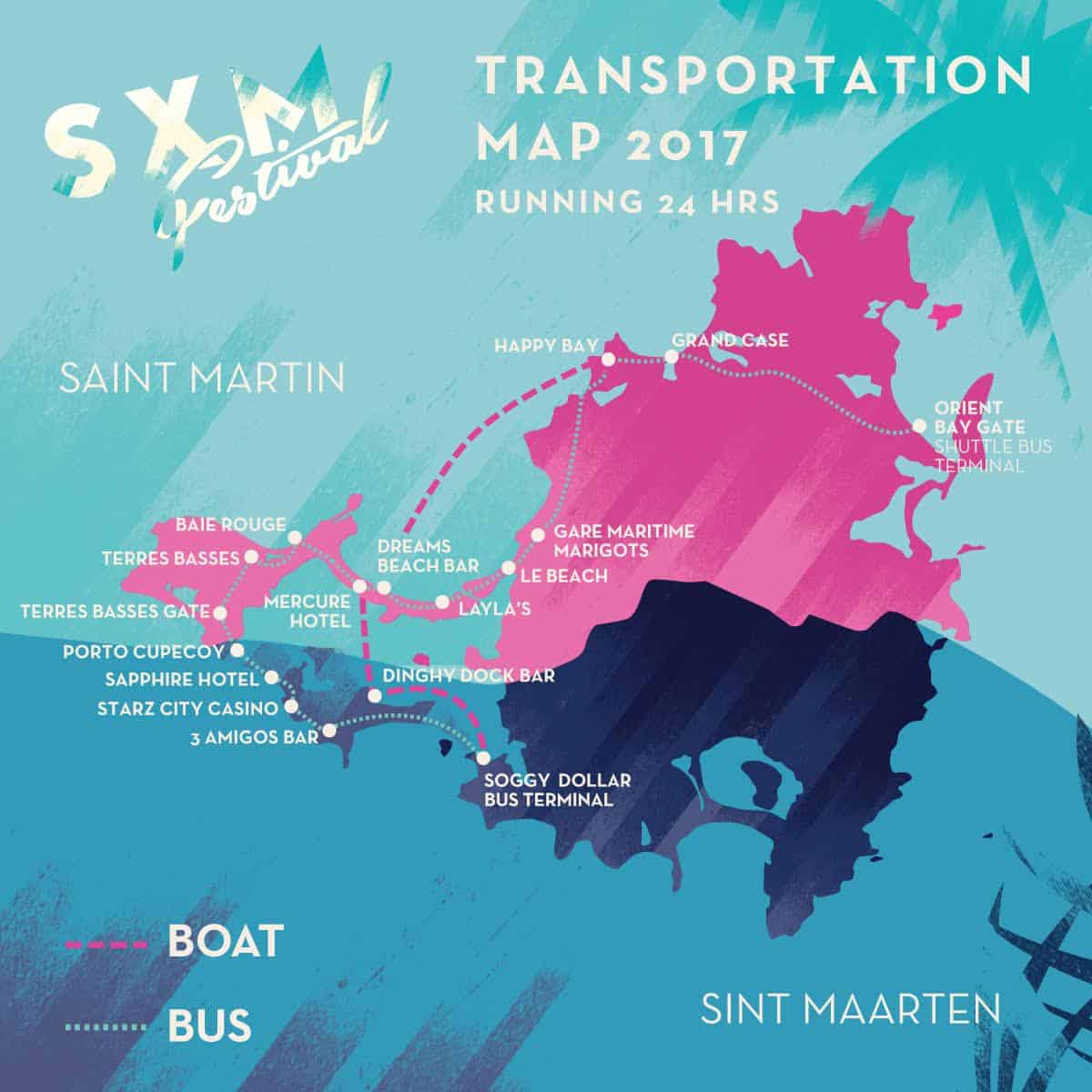 CAR RENTAL
SXM Festival has negotiated a special deal for you. If you choose to rent a car simply email This email address is being protected from spambots. You need JavaScript enabled to view it. or
This email address is being protected from spambots. You need JavaScript enabled to view it. and ask for the SXM Festival rate.
SPECIAL ALL INCLUSIVE PARTNER
Take advantage of a special SXM Festival rate at our Exclusive All Inclusive Hotel Partner – SONESTA, located in the heart of the action in Maho.
TICKETS ON SALE NOW!